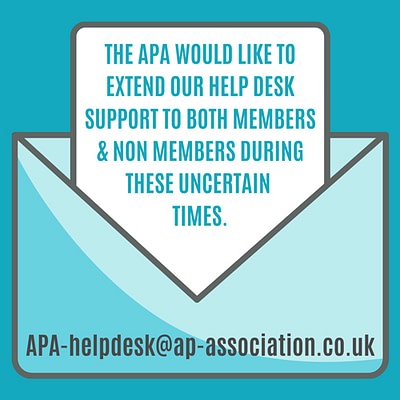 UK's Leading Accounts Payable
Certifications, Networking & Support
Transforming the AP Industry
Welcome to the
Accounts Payable Association
The APA is a professional body devoted to serving the Accounts Payable/ Purchase Ledger professional community. Here at the APA we are committed to Accounts Payable being increasingly viewed as a separate and distinguishable profession and having a set of certifications to recognise and support this.
Discover the APA certifications and join thousands of likeminded AP professionals across the globe becoming APA certified Technicians and Managers. As an APA member you will also gain access to various tools, resources, surveys, events, jobs and careers advice.
Join us on the journey, which promises to be exciting and rewarding for everyone.
Membership
Training
AP Specific training delivered either via our online learning platform or onsite
Networking
Meet other AP Professionals either at one of our events or in our interactive forum
Tools
A multitude of AP tools & calculators to assist your success
Benchmarking
Get up to date benchmarking data such as salary, process costs etc from our annual survey
Newsletters
Keep up to date with all AP/Finance related subjects in our monthly Newsletter
Support
With a dedicated team of AP experts on hand to support in all things Accounts Payable
APA Courses receive outstanding feedback from students
Trusted and recognised by Employers globally
APA Annual Conference
Once a year, the APA invites all members to an Annual Forum which is held in Birmingham. Included within the event are a variety of guest speakers from the AP industry who will cover a wide spectrum of AP related topics. There event will also have a thought leadership round-table, Q&A to industry experts, AP specific vendors, APA awards ceremony, Refreshments throughout the day and much more!
We encourage all members to attend this flagship event. It is a great opportunity to meet and network with fellow AP professionals and also to meet the APA leadership team. Attendees will be able to talk through issues and to be able to compare their own AP function to others and compare performance levels, staffing, policies and processes, etc.
Feel free to share your thoughts with us
Latest from the blog
The Accounts Payable (AP) function is a critical backbone for managing cashflow and fostering business resilience within an organisation – but what of the people,…
The Accounts Payable Association is delighted to announce its merger with The Payroll Centre, the UK's largest payroll membership and learning organisation. This announcement…
Depending on your company, there can be separate departments involved in the Procure-to-Pay (P2P) process – each with a different focus. For example, the  Procurement/Sourcing…
I set up HAPPY AP as a result of being made redundant from a large corporate company. Over the last 30 years I have worked…
The team leader is at the heart of the AP department and if they are not great at all aspects of their job, they…