ACT is industry's first custom-built online assessment platform for the AP sector, designed to provide a simple overview of your team's skillset and competencies. It allows you to extend their professional development whilst understanding business risk and areas for improvement.
Your team's assessment results can be reviewed via the ACT online platform. The simple traffic light system in the dashboard shows each team member's development clearly and concisely.
With ACT, you will see team members eager to enhance their skills in the relevant subject areas. This will save you time and money by accessing the right training at the right time for the right person. Then ensuring knowledge retention by further assessment.
Better skilled teams will lead to increased accuracy and compliance.
WITH ACT YOUR TEAM TAKES A SERIES OF ONLINE ASSESSMENTS
Each module can be taken multiple times to show your teams development.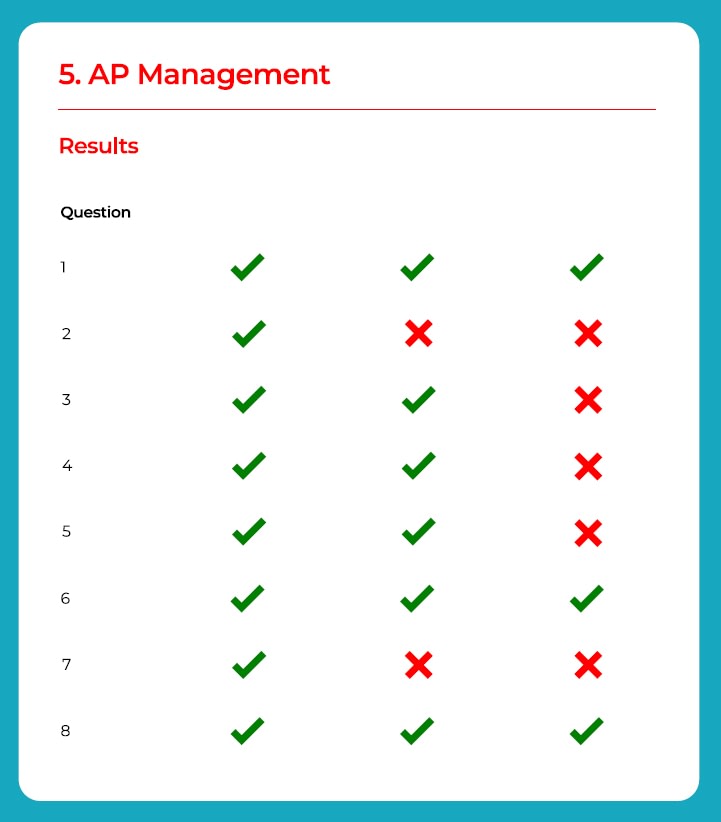 PROVIDE CLEAR EVIDENCE-BASED ASSESSMENTS WITH ACT
The traffic light dashboard will highlight strengths and development needs for your teams.
This will help you select the right training, at the right time, for every team member.
We love ACT as it is simple to use, and it lets our staff and their managers see their results clearly.
ACT to us is so much more than just a system to test our staffs knowledge, it is a development platform and has been a great addition to our internal appraisal scheme.
We would 100% recommend ACT to any business wishing to improve their staff's knowledge and development. We see ACT as an investment in our staff's ongoing development.
ACT IS AN ONLINE ASSESSMENT PLATFORM DESIGNED TO PROVIDE AN OVERVIEW OF YOUR TEAM'S COMPETENCIES AND SKILLSET. THIS ALLOWS TEAMS TO INCREASE THEIR PROFESSIONAL DEVELOPMENT AND YOU TO MANAGE BUSINESS RISK AND INCREASE ACCURACY AND COMPLIANCE.